Auckland Marathon – avoiding the bus of shame…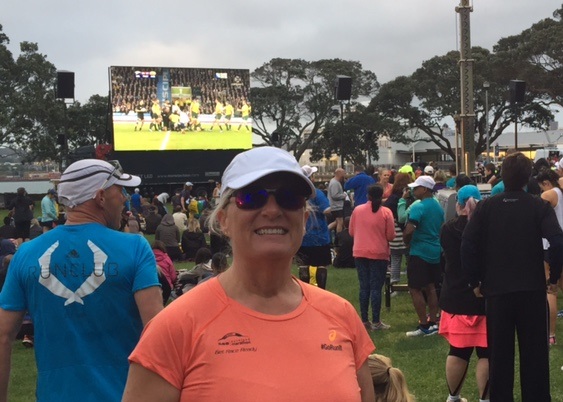 January 2015 was my first foray into walkity running or joggity life and the November Auckland marathon was my ultimate event and goal as I have always wondered what it would be like to be on foot over the harbour bridge.  So here it was – and I was super excited like a kid at Christmas!
As with all running events, the day starts silly early and this was no exception as I had booked tickets on the park and ride bus to get into the CBD at 5am!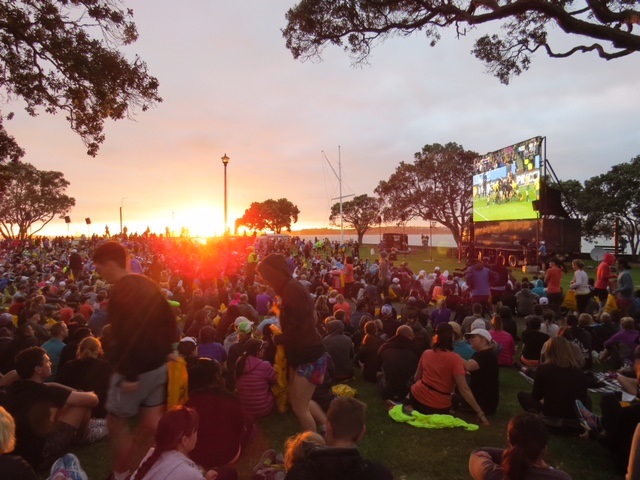 Auckland was buzzing even at this time and lights were on in most houses as people were watching the Rugby World Cup final. On arrival at Devonport the big screen was sharing the rugger and a happy vibe was shared by all.
The starting horn went off just before the end of the match – I completely mistimed this and was having a last water stop before the start*.
I kept thinking I had trained for this all year, and my personal trainer, all 35kg's of her at 4 foot nothing (Susan De Alwis!) kept on at me about the Bus of Shame. If I didn't run fast enough I would end up on this bus as the harbour bridge gets reopened for traffic at a certain time and stragglers have to board the bus.  So my strategy was simple……. Keep running until my legs give way and no stopping!
The day was glorious – running in Devonport for the first 3km uphill was stunning – gentle gradients make for happy legs and so I was off to a great start.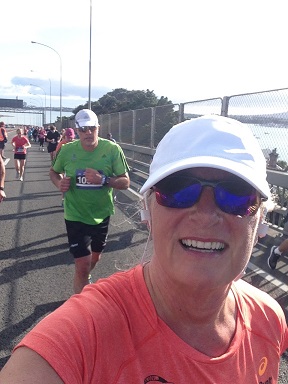 There is something nice and naughty about running places you really are not allowed to, so running thorough bus stations and over the harbour bridge was fabulous.  I hit the 5km mark and felt great, hit 10km and hadn't stopped so thought I had better try for 15km without stopping and then decided just to run the whole way.  In fact, I was so proud of myself running and taking a selfie at the same time on the harbour bridge without stopping or falling over.
Barfoot were one of the sponsors of the event and were handing out jelly snakes – I had one in passing, nearly choked while trying to chew and run, however maintained my gait as the finish line was in sight….
I am super proud of myself as I ran the ENTIRE distance no stopping, no walking and did this in 2hours 24minutes (35 minutes faster than my first event 6 months ago) and no bus of shame….Yeehah!
Lessons learned this year;
Don't start running unless you know you want to keep at it – it's addictive.
You can eat lots of chocolate as weight drops off you with the training – 24kgs lost this year and I'm not disclosing how much chocolate I've eaten, but it's a lot!
*Nervous wee's is a running term – you need about 3 of these per event, just learn to queue up after you have been as your bladder will fill in the same amount of time as the queue goes down….
Love running – run hard, have fun, smile and just enjoy it – Paris full marathon here I come!
Alison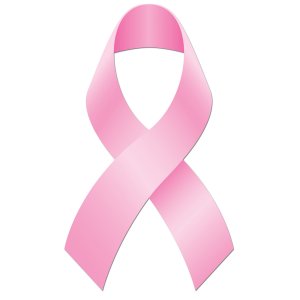 If you would like to join our quest for outstanding health and wellbeing supporting the work that the amazing charity; New Zealand Breast Cancer Foundation achieve daily – you can donate via https://nzbcf.everydayhero.com/nz/alisongill
So far together we have wonderfully raised $2,160.35 for NZBCF via everydayhero; Thank you so much for your continued support.