Ekiden – Rotorua Team Marathon
Introducing the amazing hula ladies from edenfx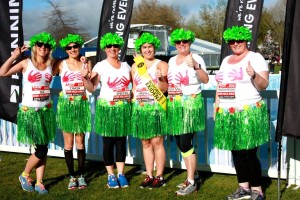 (Left to right)
Sarah Brydon aka Sez
Lynda Poole aka Crash
Suzanne Peden aka Speden
Mareece Pomare aka Mawee
Alison Gill aka Speedy Gill
Amanda Stringer aka Manda Panda
The Ekiden is a long standing team Marathon Challenge where fancy dress is almost obligatory and smiling is mandatory. This was a brilliant event and the entre team played hard out to the max, here in their own words………
Leg 1 – The starting baton goes to Mawee…
The week leading up to the team marathon I basically got hit by a bus. Not literally, but it felt very close. I came down with a really bad flu and wasn't even sure if I was going to be able to run on Saturday. I had a few hours' sleep on the Friday night, woke up tired, blocked up and with zero energy. However, I didn't want to let me team down so I soldiered on. I was the first runner which was a bit nerve racking.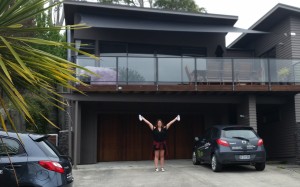 I told my team I might be a bit slow because of the flu and apologised before the run. I started my run of 7.5km, breathing in the crisp cold morning air, didn't feel too bad either and I got into the groove of my run. I ran a lot faster than I thought I would be able to.
This wore off after the first 2km's; I definitely needed water and a break. But I had my team in mind and didn't want to let them down, so I just kept running. Ran most the way, only stopping twice, another thing that ran most the way was my nose which was very annoying and gross. There was a "1km to go" sign so I started to pick up my pace. I wanted so badly to finish this run.
With the finish line in sight, I could see and hear my other team mates cheering me on, I sprinted past the last little bit, over the finish line and handed the sash over to Sarah.
Leg 2 – The baton goes to Sez….
I love a good dress up. Throw in some 'active wear', fitness activity and a road trip and I'm there with bells on! On the day of the big event everyone was super excited, we got up and started the day with some music, coffee, bananas and stretches before donning our hula girl outfits and jumping in the car to the start line.
When we arrived there were so many people in fancy dress, so much fun to see. I think my favourites were the oompa lumpa's, giant pacman's and thunderbirds complete with themed car and sound effects!
While waiting for Mareece to come through to the changeover point, there were some awesome Taiko Drummers playing on the grass, so naturally I asked if I could have a turn on the drums… they actually let me! It was so much fun and took away my nerves so when Mareece came flying through, I was hyped up ready to go!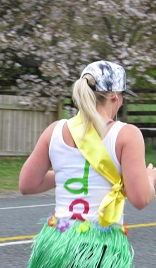 My awesome team mates gave me the 'rolling hills' leg of 7.89km's (I was conveniently on leave when they chose legs) so within the first 500 metres was faced with a nice steady incline which didn't look like much but, man! Then to my excitement I looked up and saw Mareece ahead on the side of the road with my water bottle – it literally was the highlight of my run. I powered on through giving some of the runners high fives as I ran past.
Just when I thought my legs were about to fall off and with the finish line in sight, I handed the sash over to Lynda and collapsed in a happy heap! A protein shake and chicken roll later, we were back on the road tooting the horn, waving balloons out the windows and cheering on our team mates for the rest of the day!
Leg 3 – The baton goes to Crash….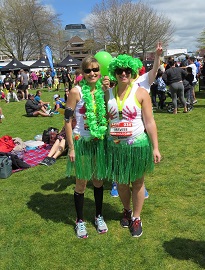 What a great weekend with the girls and the run was a real challenge with the hills – I really loved running by the lake.
I'm so proud of us all for finishing the marathon and doing better than we all expected! This has got me inspired for my future fitness challenges. Thanks Team edenfx!
Leg 4 – The baton goes to Speedy Gill….
Lynda (she of the injury in leg 3) is our secret weapon and is faster than a flea on speed. I only just managed to get to the top of the hill and ready for my leg before she came flying up the hill waving the sash – no pressure there then Lynda!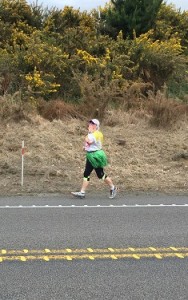 Off I trotted and had the longest leg with hills (guess I was also away when race legs were allocated!) and set off at a comfy pace so I could enjoy the scenery. Ordinarily when I see a hill, I decide in advance where I am likely to do a fast walk/joggity-run but given this was a team effort I dare not stop and so ran the entire leg of 8.5km.  It's amazing what you will do for your team and keep up the spirit of the previous great work.
The team support was incredible with the gals handing out water for each of us on our legs and shouting words of encouragement along with balloons bobbing about in our team cars.  It was fantastic and my run was over all too soon and Amanda was poised to take the sash and so……
Leg 5 – The baton goes to Manda Panda….
Speedy Gill joined me and we nattered our way around the course. It was a great distraction so before I knew it, it was over and I hadn't had to be collected halfway round!
Amazing weekend all round with the team, lots of laughs!
Leg 6 – The finishing baton goes to Speden….
'Yippee, this should be easy and I get the last leg' I thought – I was so pleased, but of course this was weeks before the actual marathon and I had soooo much time to think about training for it.
Well, it was an awfully long day waiting for my turn and I got rather hungry, so of course not wanting to faint from hunger (as if), I ploughed into 3 filled rolls and a couple of rather yummy cake slices – bad idea before an event if you don't like having seriously bad and burning indigestion!
Anyway, it was such a lot of fun cheering on the others but the nerves started to play their part because the others did so amazingly well and were so speedy during their legs and of course I didn't ever get around to that training – I didn't think I really needed to train – after all it was only a few kilometres.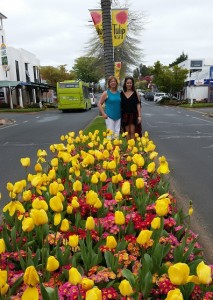 "It will be okay – you get the best leg, it's all flat and you get to go through the lovely gardens" the girls tell me.  Well, I want a refund – I'm pretty sure there was only 5 minutes (if that) of gardens, but they were indeed very beautiful – tulips galore and absolutely gorgeous colours at that time of year.
However my leg was indeed the best one to choose – flat the whole way and whilst a lot of it was along the main road, at least it wasn't the main highway, so all in all a pleasant stroll/jog/run/stroll type scenario, with my fan club giving me water along the way – oh yes I so needed it – did I tell you about the indigestion?
The end was in sight – the Marshalls had to point me in the right direction, with my brain no longer functioning I was heading off in my own direction at one point, my legs hurt and yes, that burning indigestion.
Would I do it again?  Hell yes – in a heartbeat! Especially with the edenfx ladies, what a hoot the whole weekend was and of course the best night was Friday night – yes you've got it, the night before the race – when we all had energy to burn, music to dance to and of course a little wine to drink.  Saturday night was such a different story… I'm pretty sure I was in bed by 8.30pm.
Roll on next year – I bags the same leg!
MARATHON COMPLETE!
A huge congratulations to the team and their fabulous efforts, overall completing the 42km's in 5hr 25mins!
Official time 5:25:41
Final word from the boss:  Ekiden 2015 – we love you !  This was an early Xmas "do" for the team and of course in true edenfx style, we made a full weekend of it and played full out to the max.  It has been a fun year so far, the team have all contributed hugely to a healthy workplace and positive outlook and I am so proud of the lot of them 🙂  Keep it up ladies – you ROCK!
edenfx MD, Alison Gill and the team are running for Breast Cancer throughout 2015. If you would like to make a contribution towards our fundraising page for this fantastic cause, you can do so at https://nzbcf.everydayhero.com/nz/alisongill .