The first running event! Fundraising for breast cancer…
Yippeee- I survived the very first race.
I was awake at 1.35 am excited like a kid at Christmas (that has to stop).  So off we went early to get parked up as thousands were racing.
You could feel the excitement mounting as it got nearer to boom gun off 🙂 Some amazing fancy dress outfits and goodness knows how the bears ran that distance without passing out!
So, the outcome was, 1 hour 25 minutes, rather respectable given that's my first real event and running in amongst walkers, kids on scooters and other walkity-joggers like me.
Fastest time of the day…..  25 minutes – (only an hour to catch up!)
So far, I have raised $1,643.10 for The New Zealand Breast Cancer Foundation. Thanks for your support and here is an after photo…
Alison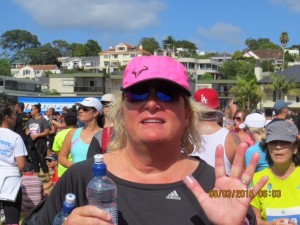 https://aucklandroundthebays2015.everydayhero.com/nz/Alison
The next event will be the Orewa beach half marathon – Alison and the team will be out representing edenfx HSE Recruitment in our team shirts: Follow the leader… New Zealand's leading Health, Safety and Environmental Recruitment Specialists.